The rumored iPhone 5G could be the real deal in 2020
Many people were anticipating the release of an iPhone 5G this year. However, reports suggest that the trailblazer will be launched in 2020. Based on stories and information from Apple, the 2020 iPhone 5G could be the real deal. The phone supposedly can make a significant modification in its internal architectural design and for the first time, may take 5nm chips as the Cupertino firm improves its iOS platform.
The benefits of the 5nm for Apple is quite obvious, primarily as the phone screens get bigger which makes the phone more energy-consuming therefore decreasing the feeding of energy is a key objective of the new smartphone. Simultaneously, as many now prefer slimmer phones, the room for a big battery size may get smaller.
Not much is being said about what Apple could incorporate into its 2020 models. Although reports on how the 5G will be possible are saying that, the company will make use of an Intel 10-nanometer 8161 modem, with an 8060 acting as a testbed. On the other hand, the company might include the use of MediaTek to reach these speeds.
The device is also said to incorporate more advance reality features as a recent report suggests that the company will add a depth sensor, which will be similar to the one in front used for face recognition and to know from the back the distance from objects.
Furthermore, Apple might go to a higher level from the previous reserved slight bezel around its phone edges to a much more improved feature in the 2020 iPhone 5G. The 2020 iPhone 5G is anticipated to have the Qi wireless charging for starters, just as seen from the introduction of the iPhone 8, 8+ and X in 2017 as well as the XS, XR and XS Max also had the feature.
The up and coming age of smartphones is probably not going to come cheap. While it seems unclear the pricing method of the 2020 iPhone 5G by Apple, yet, the high-value price of $1,099 the company placed on the iPhone XS Max suggest it the 2020 phone could cost so much higher.

Will McAfee Still Eat His D*ck On Life Television As Promised If His $1 Million Bitcoin Price Prediction Backslides In 2020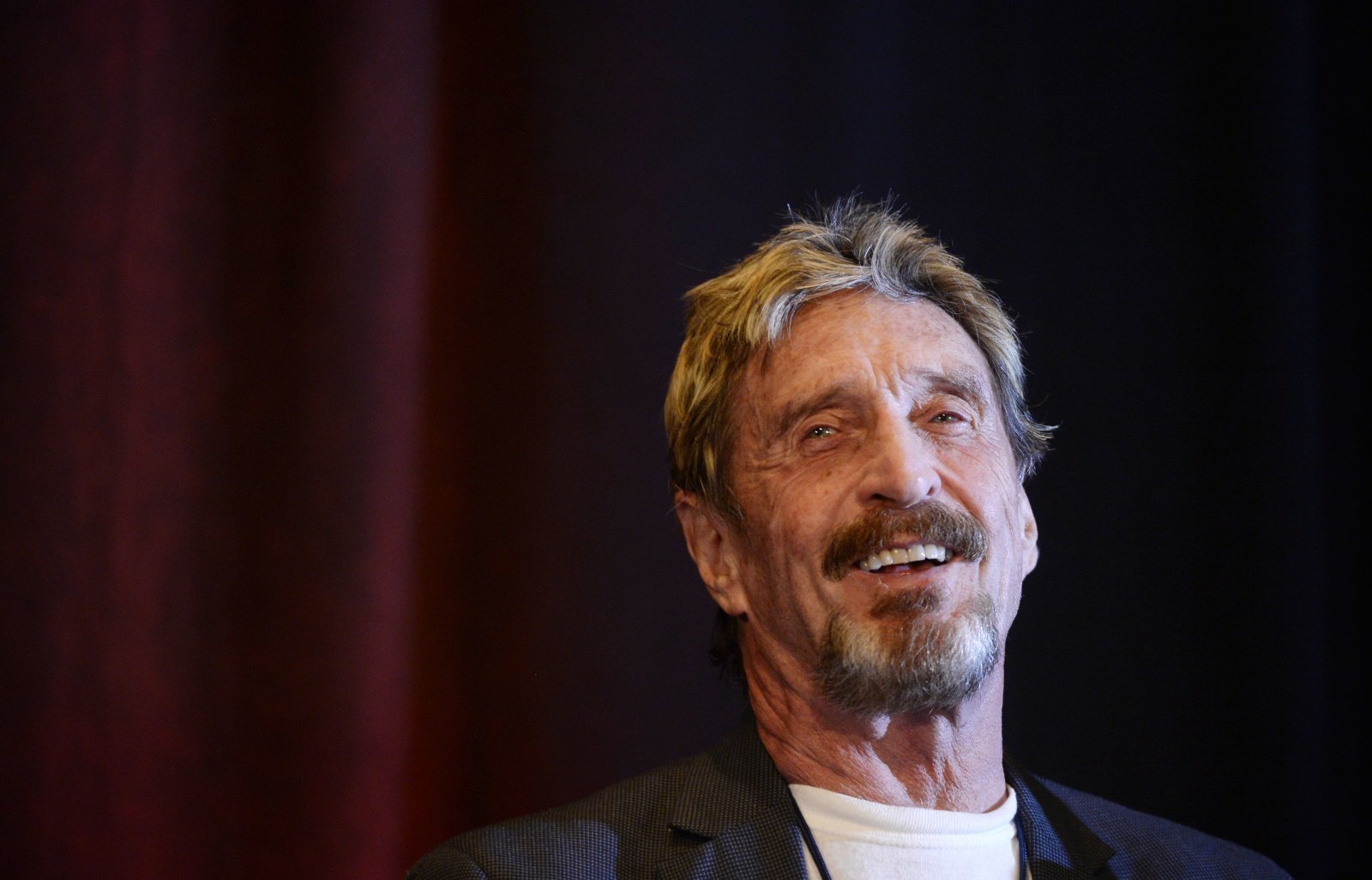 As a Bitcoin enthusiast, we all know the programmer, businessman who became famous after the invention of the well-known McAfee antivirus software. I mean John David McAfee and the founder of McAfee Associates and his famous predictions in relation to cryptocurrency, Bitcoin to be precise. As a computer programmer and a Bitcoin enthusiast, he had the confidence even though most of his short predictions were out of range.

He has made a lot of prediction in relation to Bitcoin and token. On 28th November 2017 four months after his first bet on cryptocurrency. He then took a bold step to make the well-known prediction of all times, which was bitcoin to hit $ 1 million in 2020. Upon this statement, he continued by saying he will eat his own dick on live national television if his prediction goes wrong. Since then, Bitcoin has been unstable, things are not going well with John David McAfee and his prediction.

With Bitcoin, things are looking different nowadays, the price of Bitcoin has been unstable since and after his prediction. On December 20th, 2018 Bitcoin exceeded $4000 after a huge marginal drop which gained a lot of attention, in view of this John McAfee tweeted by saying generation will look back on and name "the year of emergence". He then made a prediction in relation to Bitcoin private (BTCP), that BTCP will exceed $200 by the end of July 2018, Decodamic (MTC) to hit $0.73 by mid-July 2018 and the price of Docademic which will be doubled by 12th June. At the end of July, EOS Bitcoin to hit $32. He also predicted that Bezop will hit $0.54 by mid-July 2018.
Moreover, Bitcoin was at its peak on June 3rd, 2018 which was $7,779.00 and since then it has been fluctuating. The value of Bitcoin hit its highest point throughout July with the value of $8,506.00 from the beginning of July till July 24th. Even though his predictions were related to bitcoin and tokens, none of them came to the past, they were all wrong.

As Bitcoin price continue to drop from $20k to $4k, it is clearly seen that McAfee's prediction is moving out of range from his prediction towards the $1 Million by the end of 2020. Bitcoin price is 76.3% which is below 292 days from January 1st declining closer to the deadline of john MacAfee's prediction. To be precise, at this point in time bitcoin should be closer to $23,520.00 by know. Am not predicting, but looking at the statistics so far. MacAfee's predicting tool known as Bircoin.top keeps track of the progress in relation to his prediction which also explains that there is the need for Bitcoin to grow 0.484095526% every day from July 17th 2017 to 31st December 2020 to generate $2,244.27. which was the price of his prediction leading to the $1 Million.

The year 2020 is getting closer, will john McAfee's $1,000,000 Bitcoin prediction come to past, even though most of his predictions were not accurate. Base on the past events and the analysis provided above should we overlook his predictions? And will he eat his d*ck on live national television if his prediction backslides?

Why Bitcoin Is Still The Leading Cryptocurrency When It Comes To Cryptocurrency Trading
The original and most widely used cryptocurrency known as Bitcoin was designed by an unknown group of persons with the name Satoshi Nakamoto in the late 2008 and was released as an open-source in 2009. It was the first cryptocurrency and still the most important cryptocurrency to date. It was never their intention to invent a currency, Satoshi Nakamoto said it was a peer-to-peer Electronic Cash which was a reward for a process known as mining.
Bitcoin is legal in the United States and is used for the exchange of goods and service online only. The now-defunct 'BitcoinMarket' was the first Bitcoin exchange operation software designed by Laszlo Hanyecz which was used for the first real-world transaction in relation to Bitcoin.
As Bitcoin Grows with time, other Cryptocurrencies (such as Ethereum, Litecoin, XRP, Bitcoin Cash, Ethereum Classic, Neo etc.) also emerges. But the question is what makes Bitcoin so special. On 16 March 2019. Most of the top 10 cryptocurrencies were seen with a significant growth but the price of Bitcoin was $4,007.64 indicating a +2.24% gain followed by Bitcoin cash with $153.21 with +7.92% gain at the market visualization from Coin360 data.
From the Bitcoin price market, Bitcoin has 2.02% increased by the day, trading around $4,007.64 and ranked number one compared to other cryptocurrencies followed by Bitcoin cash, Ethereum, Bitcoin SV, Litecoin etc. Bitcoin is still trading with a huge marginal range with yesterday's change around +34.25 USD (+0.87) with a volume of $9,394,210,605 USD on 16th March 2018.
Ethereum still remains the second largest cryptocurrency by the market cap with a 2.69% increase change for the last 24hrs which is trading $4.824.588.620. On 16th March, 2018 the top 5 cryptocurrencies in terms of market Cap gains were Bitcoin (BTC) with $71,052,019,751 gain, followed by Ethereum (ETH) with $14,910,045,963 gain, Ripple (XRP) with $13,233,722,564 gain, Litecoin (LTC) with $374737272 gain and EOS with $3,464,139,773. With Bitcoin still maintaining the leading cryptocurrency trading.
Aside bitcoin been an electronic currency, it's a blockchain which validates the account. Its blockchain is a public hardware wallet which is used to record most of its transactions. It makes it difficult to hack because it is supported by the blockchain technology/algorithm. Bitcoin is constantly reviewed by bitcoin users which makes it difficult to hack. Unlike other cryptocurrencies like Ethereum, which is a ledger technology that companies use to build a new program, bitcoin is different and aim at a specific case. People have the mindset that Ethereum will overtake bitcoin one day as the dominant coin in the cryptocurrency industry, which might be true someday, I guess.
On like other cryptocurrencies, the value of bitcoin depends on the demand and supply intensity. Bitcoin has more value compared to other cryptocurrencies because it is used as a form of money electronically, that is to say, it uses mathematics and all that is required to hold its value is adoption and trust. In this case, bitcoin can be measured by the number of users, startups, and merchant and since it has the largest users it remains the leading cryptocurrency when it comes to cryptocurrency trading.