Huawei Introduces Mate 30 Pro with a quad-camera system and its Own App Store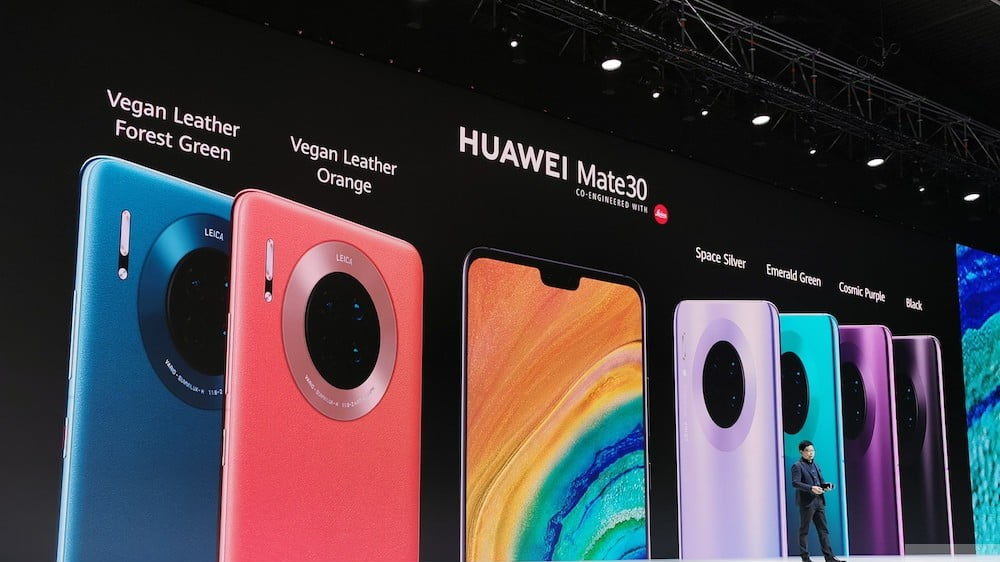 Chinese Technology Company, Huawei recently released its Mate 30 Pro smartphone as the World's 1st flagship powered by the Kirin 990 SoC with built-in 5G alongside a 7nm+ EUV technology. The Huawei Mate 30 Pro comes in six different colors (vegan leather orange, vegan leather forest-green, cosmic-purple, space-silver, emerald-green and black) fully equipped with a quad-camera compartment and a waterfall screen display.
The Huawei Pro Mate was officially announced on Thursday at an event in Munich, Germany alongside the Huawei Mate 30 model. During the exhibition, Richard Yu – CEO of Huawei Consumer Business Group highlights that the new Huawei Mate 30 Pro ships with a Google-less Android Operating System and its own AppGallery. He went on to state that;
"We cannot use the Google Mobile Services core, we can use the Huawei Mobile Services (HMS) core."
The Mate 30 Pro model operates on a 1.86GHz octa-core HiSilicon Kirin processor and an 8G RAM. Hence it fraughts with a camera compartment of 40 MP ultra-wide cine super-sensors and a 3D depth-sensing camera at the rear. In addition to a screen resolution of 1176 x 2400 pixels with an 18.4:9 aspect ratio that supports DCI-P3 HDR standard. As well as a 6.53-inch full HD+ flex OLED 'horizon' screen display.
Also, the ultra-curved design provides a wider scope for volume adjustment with the absence of the volume buttons. While improving quad-finger gaming control due to this 88-degrees curvature and increased side-touch interaction. The Mate 30 Pro battery specification maintains the company's patented 40W SuperCharge technology including a 27W wireless charging to boot. Plus an upgrade on the reverse wireless charging feature to up to three times the normal speed.
Furthermore, Huawei debuts the Mate 30 Pro as the first in its smartphone series to be launched with the EMUI 10, a reserved open-source Android environment which is a close semblance to Google's Android 10.
With the exception of Google's Android Operating system together with all other Google services and apps such as Google Maps, Google Chrome and particularly the Google Play Store. This comes as a result of the ban placed upon Huawei that forestalls the Chinese Telecom Equipment providers from engaging with U.S. companies without the approval of the U.S government.
Even though critics anticipate this move to pose an increased customer dissatisfaction since Huawei debuts this new flagship device without Google's services. Having that the only option to download apps is from Huawei's native mobile app distribution platform – The Huawei AppGallery which boasts of about 45,000 apps in juxtaposition to the 2.7 million apps on Google PlayStore.
Yet, the second largest smartphone brand worldwide and the biggest maker of switching gear remains optimistic about this approach. Subsequently, Huawei plans to spend over $1 billion on its app distribution channel as an incentive to attract more developers, consequently increasing the number of apps on the AppGallery. Elaborating further, the company strongly believes that the Huawei Mate 30 Pro has more than what it takes to thrive even without the backings of Google's vast services.
Elon Musk's SpaceX Project Successfully Debuts NASA's Launch into Space
SpaceX– Elon Musk's aerospace company, just launched two NASA astronauts into space. SpaceX is a privately owned American aeronautic manufacturing and space exploration technologies corporation, founded sometime in 2002 with the primary intention of revolutionizing space technology and promoting the emigration to mars through reduced space transportation cost. SpaceX group, an enterprise spearheaded by one of the most innovative minds of our times, has introduced a new age of human spaceflight in the United States. The project codenamed 'Crew Dragon Mission' was the second attempt by the company to launch spacemen into the orbit, over the last two decades – as the first attempt from three days ago was canceled a few minutes before take-off due to stormy weather.
This most recent development is part of NASA's Artemis program. It comes as a relish to NASA and SpaceX since the automated spacecraft manufacturer was sanctioned by NASA barely two weeks ago to develop a lunar optimized Starship that would transport its crew between the lunar orbit and the surface of the moon. The two astronauts involved in this record-breaking venture are; Bob Behnken and Doug Hurley – both of whom are NASA veteran space travelers.
NASA astronauts Doug and Bob lifted off circa 15:22 UTC on Saturday, 30 May 2020, from Kennedy Space Center on Merritt Island, Florida – which happens to be the same launch pad used to send the Apollo astronauts to the moon fifty years ago. Notably, the launch of the SpaceX aero flights – Falcon 9 rocket and Dragon crew capsule, from Florida's Kennedy Space Center to the International Space Station (ISS) marks the first time in 9 years since a spacecraft has been launched from American soil and also the first time a private company has done it.
The NASA astronauts have successfully arrived at the International Space Station. In attendance to witness the event in Florida was President Donald Trump, Vice President Mike Pence, and the SLOTUS – Karen Pence of the United States of America.
Apple Acquires AI Startup to Improve Siri
In the race for new and improved virtual assistance services, Apple is once again, yet to take the lead through its acquisition of the Ontario-based machine learning startup – Inductiv. The brains behind Inductiv include professors from Stanford University, the University of Wisconsin, and the University of Waterloo – in the persons of Christopher Ré, Theodoros Rekatsinas, and Ihab Ilyas. This band of Engineering professors is the latest supplement to Apple's development team in addition to the company's myriad of Engineers from Silicon Valley, slated to work on the Siri among other things. Apparently, this team of professors would be working on the AI, Machine learning, and data science section of the company – an important aspect of Apple's deep learning strategy. In a statement provided by Apple's spokesperson, the deal has been sealed and stamped. The representative further confirmed the deal with a rather unapologetic tune, asserting that it;
"buys smaller technology companies from time to time and we generally do not discuss our purpose or plans." 
The idea of virtual assistance is to make life a lot easier as these software agents make it easiest to navigate between the software and programs of an operating system. Inductiv has been focused on developing technologies that utilize machine learning to automate a hassle-free procedure of identifying and correcting erratic datasets in the past. Evidently, having authentic data is key to ensuring a seamless and robust AI functionality which is why AI and data science are essential to a machine learning ecosystem. Through deep Learning and AI, these virtual assistive technologies could be programmed to automate certain processes that would normally require human interaction. By this, you can make your assistant do your phone's tasks for you – such as make your calls, send important emails, and even entertain you during your leisure time, while you just sit back and relax. 
Although, Apple's senior vice president of Machine Learning and AI Strategy – John Giannandrea, has indicated the company's interest to work on a few improvements with regards to Siri and other AI-powered products from the company. However, the iPhone maker has drastically slacked in the niche of virtual assistance in recent times. Giving way for other competitors such as Microsoft's Cortana, Google Home, and Amazon Alexa. According to research conducted a couple of years ago by Forbes, Siri ranked number 4 on the top 10 list of virtual assisting technologies for mobile and still is at present.
Apparently, this comes as a huge blow on the overall image of Apple's technological growth, given that Siri was the pioneer software in the sphere of voice-controlled assistive technology. Since it provided the prototype from which other virtual assisting apps borrowed their ideas. Little wonder why Apple has been acquiring a host of AI-related startup companies in most recent times including NextVR,  Xnor.ai, Deep Fusion, Tuplejump, Laserlike, Voysis, Turi, and Perceptio.