Apple Acquires AI Voice Startup PullString, that helps power Apps on Alexa and Google Home Assistant
Apple has Reportedly Acquired the PullString Startup based in
San Francisco that Powers Voice Recognition Apps. This could help Siri better compete with Amazon's Alexa and Google Home Assistant.
Founded in 2011 by a group of Ex-Pixar executives, PullString was basically used to power interactive voice apps for toys like the Hello Barbie in 2015.
Pullstring later widened its path with the introduction of such IoT products as Google Assistant and Amazon Echo.
The Acquisition is said to be valued around $30 million and will give Apple a boost in the Voice Industry as well as making siri more advanced and rapidly adopted.
As Amazon and Google Continues to Improve and Invest heavily in the Voice Development Business, Apple also doesn't seem to be relenting, Of which the company has been way behind both Google and Amazon.

7 best tips to boost your Facebook Reach
Are you still following the old marketing strategies for your business? Nowadays, most of the businesses are using their Facebook fan page to advertise and promote their products and services to a wide range of customers.
Even the small businesses that do not own a website make use of Facebook page to present their business online and visible to the larger number of people. With a reliable facebook page of your business people can get to know the latest updates that may not be available to your website and also get a chance to learn more about your business. So in this article let us discuss 7 best tips to boost your Facebook reach:
Go for engaging content
Content is the key to any successful business and so it is in the case of facebook page marketing. Make sure you always post original and correct information about your products and business. One should post the content that makes sense and ability to relate with the customer needs in order to get more likes on their facebook page.
Utilize 'facebook live' feature
Facebook live is a very effective characteristic of Facebook with which businesses can show real things like events, celebrations, behind the scenes, like content to their users. Users do believe in actual things and thus they show more interest in such things. Another benefit if facebook lives are that you can personally interact with the customers and answer their questions in the video itself. So follow the best practices while making any video and going live to show what you are actually doing.
Post when your users are most active
It is very essential to post on your facebook page at the right time and in the right quantities. Too much posting is not good in terms of professional business and similarly posting too less is also not suggestive. So one should always post regularly like one post a day and it should be meaningful enough to reach a larger audience. When your users will be more active they tend to share your products on their timeline, then it will be visible to their friends and other people. In this way, the promotion of your business will get higher visits and it will ultimately boost up the traffic of your website.
Organize contests and promotions
To run a successful business you should always keep your potential customers on top priority. In order to achieve that, you can organize contests regarding your products and services and also offer rewards for the same. Researchers have proved that people tend to show more interest in these contests and likely to participate in them.
Know your Facebook insights
Once you are done with creating a facebook fan page and started posting on it ideally. The next step you should do is to keep a regular watch to your Facebook page insights. It will show you some necessary data like how many likes you got on your page, the reach of your posts and page, the number of people engaged with the post etc. With that, you can better evaluate the negatives and positives
Building the Facebook community
If you are looking for getting more likes on your facebook page then you can participate in the Facebook community. Create group discussions for your business, frequently asked questions, running contests are some of the best ways to keep your people engaged. You should try to offer your users with something unique and creative which no one else has initiated yet. For this, you have to devote maximum time to your audience, carry on with your discussions and forums.
Use better visuals
Images are one of the most beneficial ways to communicate with your customers and to create their interest in your products. By using better images you will be able to expand your reach since people like high-quality images and videos. Make sure your images convey the same you do with your written content. The smaller you will post the larger impact it will leave on your users. But make sure your images are complete and the best information is represented.
So these are some of the best ways to boost up your Facebook page that will benefit your business in one way or the other.

Google Chrome to save users from replicated misspelled URLs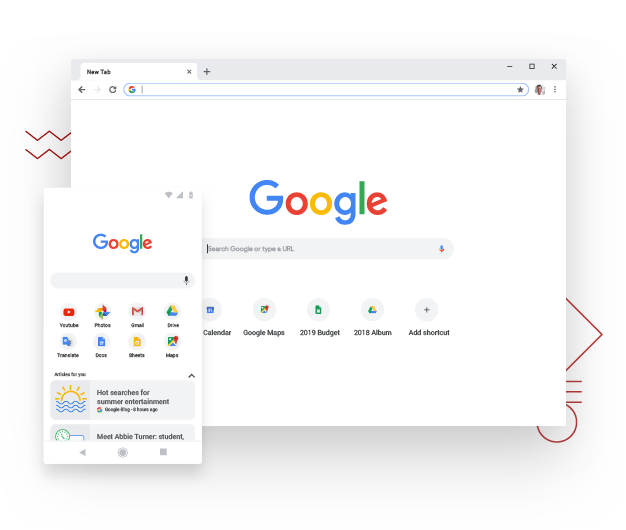 The web is recently seen as very unsafe as there are a lot of stories of phishing attacks, email scams, and malware. Eventually, Google has thought of its users and has made an effort to save users from such issues as according to a report from ZDNet, it has included a feature to their popular web browser, Chrome which is aimed to caution users about replicated misspelled URLs that can imitate real websites. A member of Google's usable security team, Emily Stark also showed the feature during a recent presentation focused on web security.
The reports reveal the feature is at present in beta testing with Google Chrome Canary 70, yet can be enabled with the chrome://flags/#enable-lookalike-url-navigation-suggestions flag. Chrome will display a caution message when the feature is selected, the message is under the Ombnibar, and if the user types in a URL of a website that has false determines or seem to steal login credentials, the feature will bring out new suggestions.
An instant by ZDNet is that websites like paypall.com or coịnbạse.com are examples of fake websites, but, as per the test results, standard versions of Google Chrome will auto redirects to the official websites.
Google Chrome has a similar flag on standard non-beta. However, it does not seem to operate like in the Canary ring. This makes it clear that the feature might not be ready yet and looking at how things are going might officially be released in the future.
Google has many security-themed features as this is not the first that the company has introduced to their Chrome browser. Google recently tried to battle sites that takeover users back button and tab history to generate views on ads. The company recently brought a quiz aimed to inform the user on how to avoid attacks.
It is quite exciting to see Google Chrome with attempts to provide auto supports. Nevertheless, I think web users must be careful and should try checking URLs they visit on the web. An indicator of a secure connection, site certificates, and other web settings is a green lock next to the URL; users are always advised to check that.