5 Best Smartphones To Look Out For In 2019
Many people say 2019 was a great year for smartphones, on the other hand, some people don't share the same opinion. The question is, will 2019 be much better? Well, upon what's coming, that might be possible. Let's take a look at the best 5 smartphones set to launch in 2019.
OnePlus 7
Leaks are quick to come out with teasers of the OnePlus phones before its official release scheduled as we already have a fair idea about the next OnePlus phone, which is the OnePlus 7. According to rumors the OnePlus 7 will have a 5G mobile internet (although some it is not the phone with the 5G-ready device OnePlus CEO Pete Lau has promised, as that's going to be another release entirely) and may use a pop-up front camera to free up even more screen space.
We are anticipating an incredible experience with the OnePlus as it is set to be launched in spring. OnePlus 7 is likely to be priced at $300 more than the previous OnePlus phone'.

Samsung Galaxy S10 and Galaxy S10 Plus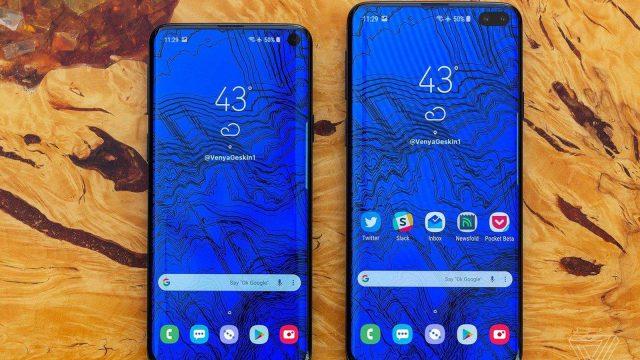 The Galaxy S10 it will set the tone for Samsung's 2019 phones as it is set to launch in March. According to analysts, the Galaxy F might be the future of smartphones phones one day, but until then the Galaxy S10 and S10 plus will be the phones to beat. However, rumors have it that Samsung 10th generation flagships have three to choose from this year.
Stories also have it that, there could even be 5G connectivity. Samsung S10 and S10 plus are said to have rear cameras as well as Snapdragon 855 power and in-display fingerprint sensors, and it is also supposed to be the two most expensive models. We hope all rumors are true as Samsung debut the S10 on February 20 at their event in San Francisco.
iPhone 11 and 11 Max
iPhone lovers are expecting a fantastic thing from iPhone 11 as the iPhone XS, and XS Max were significant upgrades. Apple likes to surprise their customer as they keep things covered until probably September. The leaks and renders going around seems too good to be true, but if the iPhone 11 indeed includes a pop-up camera module, a TouchBar display on its side and an iPad Pro-like stylus, then we are in for a thriller.
Ming-Chi Kuo who is an analyst stated that the future phones may still have the dual-camera lens setup and probably ditch 3D Touch. According to him, that will keep the price down. Reports have it that Apple could grab advanced 3D cameras from Sony to obtain gesture control in games, sophisticated room scanning capability and more.
Sony Xperia XZ4
Sony announced to launch its Sony Xperia XZ4 in March as the company still felt far behind its competitors in 2018. The company is determined to overcome every struggle in staying as an essential brand in the phone industry. However, Sony was not bad last year with an OLED screen and a price far less expensive than some of its competition, in the Sony Xperia XZ3.
The Sony Xperia XZ4 is said to be bold with its screen tech again, and use a 21:9 aspect display without a notch making the phone debatably the most "cinematic" phone to date, as it is close to the 2.39:1 anamorphic standard.

LG G8 ThinQ
LG's G7 ThinQ was a good smartphone and was very solid, but it lacked some extraordinary features. Therefore, everyone is anticipating the G8 ThinQ to be the flagship that will turn-heads and standout. The LG G7 ThinQ had an ultra-wide rear camera which was good, but recently several phones have both a zoom and a wide camera.
Is entirely unclear what the G8 ThinQ which is supposed to be launched in May has or is but a Korean report suggest a foldable phone, others also believe it has a double screen where the second screen is attached to the phone. The render shows a more conventional approach, though that version could incorporate a Sound on Display feature that removes a visible earpiece from the phone's display.

Youtube Gets Sued For Alleged LGBTQ Rights Infringement
A group of LGBTQ rights defenders in the US recently arraigned Google and YouTube in federal court. This band, including a handful of LGBTQ social media celebrities such as Chase Ross, Bria Kam, Chrissy Chambers, Brett Somers as well as the executives of GlitterbombTV.com, Alleges that YouTube's 'ad-friendly' policies were actually not friendly to them in all ramifications. The litigation brought before the US district court in California accuses YouTube of such activities as limiting video contents tied to famous LGBTQ identities.
The Emerging Rights War
Following the recent developments, a lawsuit was filed on Tuesday against YouTube and its parent company – Google. These LGBTQ users leveraged upon the company's purported ideology of "creating a platform of self-expression for all" and making a shit-load of money while at it. This perception of 'freedom of expression' and 'freedom of information' was however received differently by LGBTQ users, once they sensed a pre-planned discrimination towards the contents they upload on YouTube.

Accordingly, the court order highlights that YouTube engaged in;
"unlawful content regulation, distribution, and monetization practices that stigmatize, restrict, block, demonetize, and financially harm the LGBTQ+ Plaintiffs and the greater LGBTQ+ Community."
The Plaintiff acknowledged that Google/YouTube supervises over 95% of all the digitally distributed video-based contents on a global scale. And as such, YouTube is registered as the largest for-profit channel dedicated to free speech and expression in the history of the world.
Furthermore, the Prosecuting party maintains that the Defendants generated an excess of $25 billion on an annual basis. Claiming that such profits are derived from regulating, distributing, and monetizing the free speech and expression of the 2.3 billion YouTubers worldwide.

Google Apology
Still, Google upholds that it has always been a silent propagator of LGBTQ rights in the past. Demonstrating this, Google asserts to have advocated for gay rights around the world and officially sponsoring the San Francisco Pride parade. Nonetheless, this is not the first time Google/YouTube would be charged with such malfeasance.
The social media giant took to Twitter during the 2018 'Pride Month' to relay an apology with regards its biased ads sharing policies. But this time, the LGBTQ community does not seem to care about Google's apology but rather a call for the restructuring of Google's business model.
40% Of Bitcoins Are Stored On Wallets With A Balance Of Over 1000 BTC
Over the past few years, several "warning bells" have started to sound for all Bitcoin maximalists. Seems like the decentralization of the main cryptocurrency is more like a myth and has neither part nor lot in ability-status congruence. According to some experts of the industry, 40% of all Bitcoins are stored on cryptocurrency wallets with a balance of 1000 BTC or more.
Who Controls Bitcoin?
According to data published by digital asset strategist/director at VanEck Gabor Gurbacs, there are only 3 wallets that own 100000 BTC and more and 115 that own 10000-100000 BTC. The main part of them is cryptocurrency exchanges with millions of users.
If we exclude some factors that could affect the accuracy of the results, in particular, remove wallets belonging to exchanges, we can get the following result.
The results are presented below on the chart of the Lorentz curve. A straight blue line demonstrates the complete equality in the distribution of coins, that is when each person gets an equal amount of BTC. The red curve under the line corresponds to reality – the ratio of the number of wallets to the number of all coins have already mined. As we can see, the first 25 % of the holders don't own a few percents of Bitcoins. But the tiny part of the particularly well-to-do holders accounts for most of the existing coins.
Source: trustory.io
That is the diagram indicates the "unfairness" of the cryptocurrency distribution. Although it simply indicates the difference in the social status and condition of industry participants.
In general, the Lorentz curve demonstrates income unfairness in economics. The closer the curve is to the straight line, the fairer the distribution of all the funds. Its position on the chart is controlled by social programs and tax reforms.
This statistic has been criticized by some Twitter users. BlockTower Capital co-founder Ari Paul advised experts to exclude wallets with an account balance of less than 0.01 BTC from the sample. According to him, any user can create thousands of Bitcoin addresses, which then will not be used. Therefore, these purses are supposedly not worth taking into account.
That wealth is unevenly distributed is probably a normal situation. However, as well as knowledge: the one who constantly studies new areas, the first to receive various things, which then become wealthy. The example is registering the first domains in the .com zone because their further sale brought millions of dollars to the owners! Among this one occur to sex.com or casino.com
Another example is early investors. Shares of Facebook or Amazon, bought a decade ago, were considered a completely rubbish investment, but someone believed in these companies and their business model.
To get closer to the cherished percentage of the richest Bitcoin wallets it is the proper time to buy cryptocurrency. That time we will live a life!