What Happens in the Cryptocurrency World?
For the past decade, bitcoin has been the main interests in the cryptocurrency industry despite the confusion and uncertainty. Bitcoin is the well-known token in the world of cryptocurrency in relation to the blockchain, beneath these jargons, lies the strength of new technology which has improved our system financially.
Bitcoin came in to existence as an outcome of an experiment, by then bitcoin was mainly known by tax invaders, drug dealers, money launderas and many more since the introduction of internet which has been described as technology fraud, as time goes on, we have seen that several multi-dollar crowdfunding done on bitcoin in relation to blockchain market. projects are been raised using cryptocurrencies: selling of native tokens such as bitcoin, Ethereum, Litecoin and others needed in their corresponding networks to improve financial support.
Bitcoin has been in the system of cryptocurrency for a very long time, bitcoin is electronic money which is not given or manipulated by anyone.it is stored digitally and can be electronically transferred from one point to another from any part of the world at any amount of value of interest.
Bitcoin, popularly known as digital money can be used for the exchange of goods and services. Transactions can be done anywhere without the involvement of a third person. bitcoins are stored electronically. that is, it cannot be hacked or taken over by the local government. This gives people full potentials to manage their own bank through the internet. In relation to physical gold, bitcoin speeds up transaction compared to real gold.
Currently, there is a 21 million bitcoin supply that makes it a valuable and reliable asset. Logically, the basics of how cryptocurrency works and why it is powerful is that it cannot be traced. Networking in relation to bitcoin is a one-to-one network that runs on it own away from authoritative group or location involving the central government using blockchain.
Mostly, the well-known currency that runs on cryptocurrency network is called bitcoin, which is a unit of currency stored and transmitted among online traders. Most currencies distributed by the bank can easily be reduced or manipulated, unlike bitcoin which is distributed according to the arranged set of rules which improves a smooth transaction that cannot be manipulated by the central government or a vindictive actor.
Buying and selling of goods and services, sending money to organization or group of individuals make it easy for bitcoin users for a fast and secure manner. Internet access and a secured key which is exposed to the general public which provides access to coins which is accumulated in the bitcoin network.
Not having official approval to access someone's secured key is like taking gold from someone's vault without premising. Miners maintain the database of cryptocurrency by using their specialized computers to speed up transactions that goes on in the internet by using their electricity and data bundle, as a result of this they receive transaction fees known as tokens whenever new coins are allowed or released into the network by protocol whenever there is a new block added to the chain.
In order for this to work, users transmit transactions through the network, miners then record with their authoritative computer power by completing complex mathematical puzzles which indicate that they are working for bitcoin network. In relation to confirmation of the transaction, every 10minute new block is released into the blockchain miners then record and confirm these transactions and the race for the block then begins again. These transactions are been guided by protocol/algorithm rules of bitcoin governing by NSA algorithm.
More accurate app developers have come up with various ways of gaining cryptocurrencies in a form of a token by completing surveys or playing of games. This allows individuals to gain some tokens which can later be changed into Bitcoin, Ethereum, Litecoin and other cryptocurrencies which can be withdrawn at any point in time.
Will McAfee Still Eat His D*ck On Life Television As Promised If His $1 Million Bitcoin Price Prediction Backslides In 2020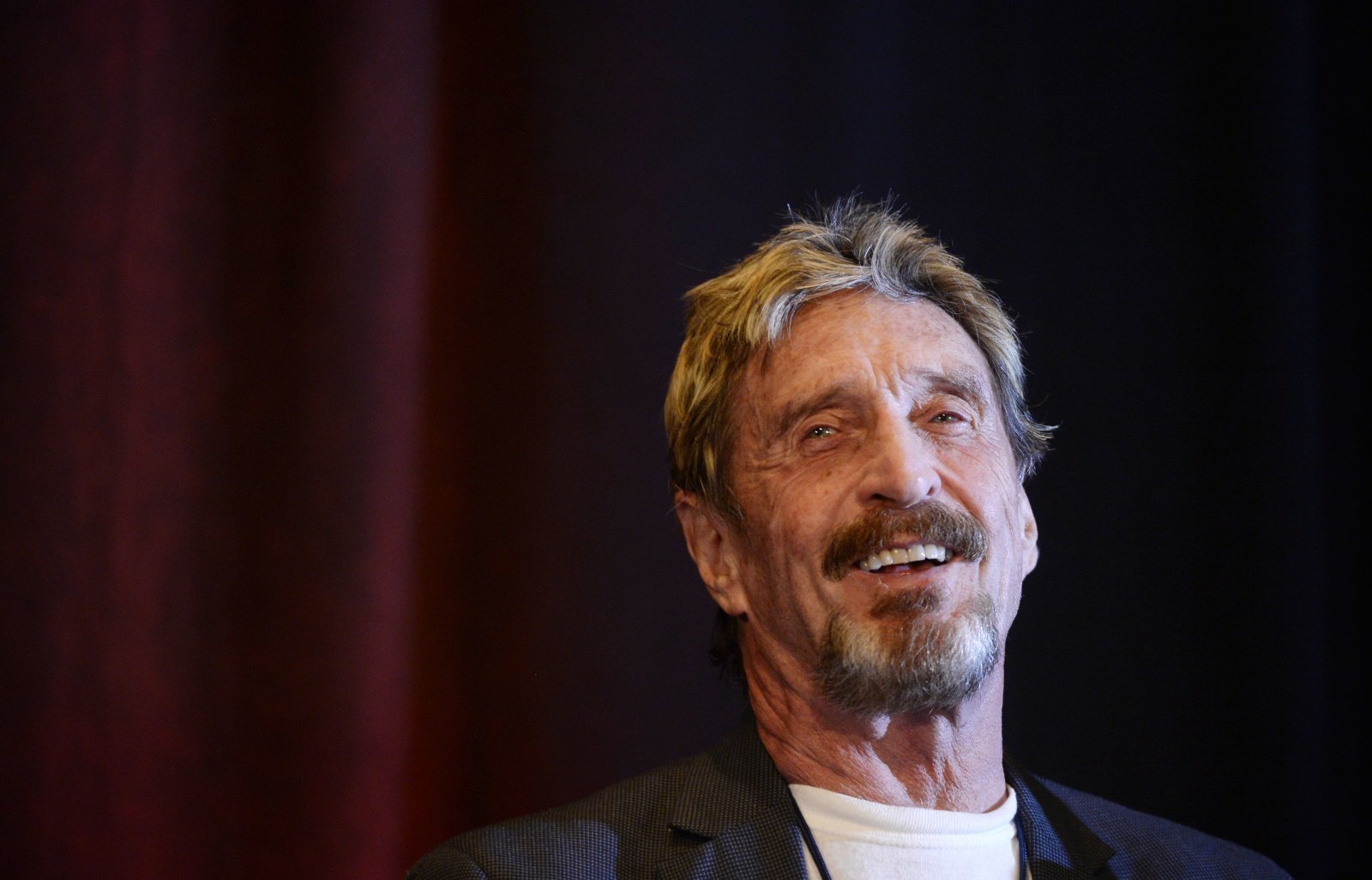 As a Bitcoin enthusiast, we all know the programmer, businessman who became famous after the invention of the well-known McAfee antivirus software. I mean John David McAfee and the founder of McAfee Associates and his famous predictions in relation to cryptocurrency, Bitcoin to be precise. As a computer programmer and a Bitcoin enthusiast, he had the confidence even though most of his short predictions were out of range.

He has made a lot of prediction in relation to Bitcoin and token. On 28th November 2017 four months after his first bet on cryptocurrency. He then took a bold step to make the well-known prediction of all times, which was bitcoin to hit $ 1 million in 2020. Upon this statement, he continued by saying he will eat his own dick on live national television if his prediction goes wrong. Since then, Bitcoin has been unstable, things are not going well with John David McAfee and his prediction.

With Bitcoin, things are looking different nowadays, the price of Bitcoin has been unstable since and after his prediction. On December 20th, 2018 Bitcoin exceeded $4000 after a huge marginal drop which gained a lot of attention, in view of this John McAfee tweeted by saying generation will look back on and name "the year of emergence". He then made a prediction in relation to Bitcoin private (BTCP), that BTCP will exceed $200 by the end of July 2018, Decodamic (MTC) to hit $0.73 by mid-July 2018 and the price of Docademic which will be doubled by 12th June. At the end of July, EOS Bitcoin to hit $32. He also predicted that Bezop will hit $0.54 by mid-July 2018.
Moreover, Bitcoin was at its peak on June 3rd, 2018 which was $7,779.00 and since then it has been fluctuating. The value of Bitcoin hit its highest point throughout July with the value of $8,506.00 from the beginning of July till July 24th. Even though his predictions were related to bitcoin and tokens, none of them came to the past, they were all wrong.

As Bitcoin price continue to drop from $20k to $4k, it is clearly seen that McAfee's prediction is moving out of range from his prediction towards the $1 Million by the end of 2020. Bitcoin price is 76.3% which is below 292 days from January 1st declining closer to the deadline of john MacAfee's prediction. To be precise, at this point in time bitcoin should be closer to $23,520.00 by know. Am not predicting, but looking at the statistics so far. MacAfee's predicting tool known as Bircoin.top keeps track of the progress in relation to his prediction which also explains that there is the need for Bitcoin to grow 0.484095526% every day from July 17th 2017 to 31st December 2020 to generate $2,244.27. which was the price of his prediction leading to the $1 Million.

The year 2020 is getting closer, will john McAfee's $1,000,000 Bitcoin prediction come to past, even though most of his predictions were not accurate. Base on the past events and the analysis provided above should we overlook his predictions? And will he eat his d*ck on live national television if his prediction backslides?

Why Bitcoin Is Still The Leading Cryptocurrency When It Comes To Cryptocurrency Trading
The original and most widely used cryptocurrency known as Bitcoin was designed by an unknown group of persons with the name Satoshi Nakamoto in the late 2008 and was released as an open-source in 2009. It was the first cryptocurrency and still the most important cryptocurrency to date. It was never their intention to invent a currency, Satoshi Nakamoto said it was a peer-to-peer Electronic Cash which was a reward for a process known as mining.
Bitcoin is legal in the United States and is used for the exchange of goods and service online only. The now-defunct 'BitcoinMarket' was the first Bitcoin exchange operation software designed by Laszlo Hanyecz which was used for the first real-world transaction in relation to Bitcoin.
As Bitcoin Grows with time, other Cryptocurrencies (such as Ethereum, Litecoin, XRP, Bitcoin Cash, Ethereum Classic, Neo etc.) also emerges. But the question is what makes Bitcoin so special. On 16 March 2019. Most of the top 10 cryptocurrencies were seen with a significant growth but the price of Bitcoin was $4,007.64 indicating a +2.24% gain followed by Bitcoin cash with $153.21 with +7.92% gain at the market visualization from Coin360 data.
From the Bitcoin price market, Bitcoin has 2.02% increased by the day, trading around $4,007.64 and ranked number one compared to other cryptocurrencies followed by Bitcoin cash, Ethereum, Bitcoin SV, Litecoin etc. Bitcoin is still trading with a huge marginal range with yesterday's change around +34.25 USD (+0.87) with a volume of $9,394,210,605 USD on 16th March 2018.
Ethereum still remains the second largest cryptocurrency by the market cap with a 2.69% increase change for the last 24hrs which is trading $4.824.588.620. On 16th March, 2018 the top 5 cryptocurrencies in terms of market Cap gains were Bitcoin (BTC) with $71,052,019,751 gain, followed by Ethereum (ETH) with $14,910,045,963 gain, Ripple (XRP) with $13,233,722,564 gain, Litecoin (LTC) with $374737272 gain and EOS with $3,464,139,773. With Bitcoin still maintaining the leading cryptocurrency trading.
Aside bitcoin been an electronic currency, it's a blockchain which validates the account. Its blockchain is a public hardware wallet which is used to record most of its transactions. It makes it difficult to hack because it is supported by the blockchain technology/algorithm. Bitcoin is constantly reviewed by bitcoin users which makes it difficult to hack. Unlike other cryptocurrencies like Ethereum, which is a ledger technology that companies use to build a new program, bitcoin is different and aim at a specific case. People have the mindset that Ethereum will overtake bitcoin one day as the dominant coin in the cryptocurrency industry, which might be true someday, I guess.
On like other cryptocurrencies, the value of bitcoin depends on the demand and supply intensity. Bitcoin has more value compared to other cryptocurrencies because it is used as a form of money electronically, that is to say, it uses mathematics and all that is required to hold its value is adoption and trust. In this case, bitcoin can be measured by the number of users, startups, and merchant and since it has the largest users it remains the leading cryptocurrency when it comes to cryptocurrency trading.